Facial rejuvenation via facelift surgery is an increasingly popular procedure that helps patients look and feel their best. However, post-operative swelling and the appearance of scars can be a major concern for patients. In this article, we will explore the journey to recovery after a facelift through lifestyle choices that can contribute to a smoother recovery for enjoy a more natural appearance as you heal.
Understanding the Facelift Surgical Procedure
Facelift surgery, a type of plastic surgery, is increasingly becoming the choice for individuals seeking a youthful appearance. The surgical procedure primarily targets sagging skin around the neck and jawline. Typically, we make shorter incisions discretely around the hairline or ears.
Moreover, facelifts are not one-size-fits-all. Factors like the extent of aging signs and individual skin characteristics usually dictate suitable approaches. Besides, candidates for facelift surgery are typically those unhappy with aging signs visible on the face and neck, having realistic expectations about results.
The recovery period is paramount after a facelift surgery. It is essential to reduce swelling and manage scarring, which can help you achieve a faster recovery. To do this, it is important to follow your doctor's instructions on medications and lifestyle choices.
Swelling after a Facelift Surgery: What You Must Know
Swelling after facelift surgery is a common part of the recovery process. The body's natural response to the surgical damage promotes blood flow to the affected area and leads to swelling due to fluid retention as part of the healing process. It's important to note that increased blood flow and fluid retention are perfectly normal reactions from your body.
Use Cold Compresses
Cold compresses or ice packs applied to the swollen area numb the nerves temporarily, reducing the feeling of pain. Further, they constrict blood vessels, which slows down blood flow to the swollen area, hence reducing swelling. Apply them to the swollen facial area for 15-20 minutes every hour.
Get a Good Rest
Getting plenty of rest and keeping the head elevated after a facelift surgery is essential to reducing swelling and promoting healing. When lying down, keep the head slightly elevated to reduce blood flow to the face. This will help limit the amount of fluid retention and keep swelling at bay. Make sure to get plenty of rest during recovery.
Take medication
Plastic surgeons often prescribe over-the-counter pain relievers. These are crucial tools in easing discomfort and reducing inflammation. However, blood thinners may increase the risk of bruising post-surgery, so it is better to avoid them. If the swelling and pain persist for an extended time, it's a good idea to contact your surgeon as it may be a sign of something more serious.
Dietary Changes
After a facelift, adopting a healthy diet can effectively help mitigate swelling. Eating the right kind of food acts as a natural aid in speeding up recovery times. Start by reducing sodium intake, as it contributes to fluid retention. Instead, reach for colorful fruits and veggies which are high in antioxidants that suppress inflammation. Make sure to eat plenty of protein for tissue repair.
Staying well-hydrated is critical after a facelift Irvine. Drinking plenty of water helps to decrease post-surgical bruising and swelling. It keeps the skin properly hydrated and assists in the discarding of toxins, reducing inflammation quickly. So, gulping down a minimum of 8 glasses of water daily is a healthy habit.
Alcohol and nicotine, on the other hand, should be eliminated from your diet as they can prolong your recovery period. They make blood vessels tighten and prolong inflammation, delaying the healing process.
Understanding Facelift Scarring
Facelift scarring is an integral part of the healing process after surgery. The patient may note some visible scarring initially, but the severity varies significantly from patient to patient. It primarily depends on the sutures technique used during the surgery. In most cases, the surgeon makes shorter incisions discreetly, ensuring that the facelift scars are hidden naturally in the hairline or behind the ear.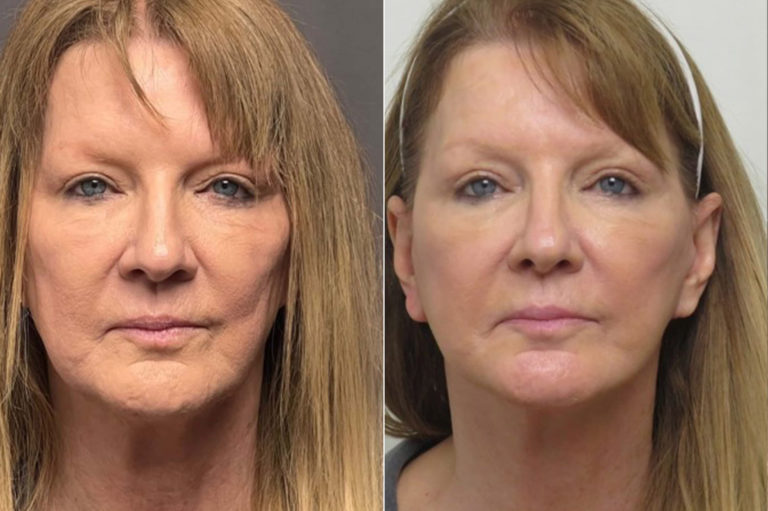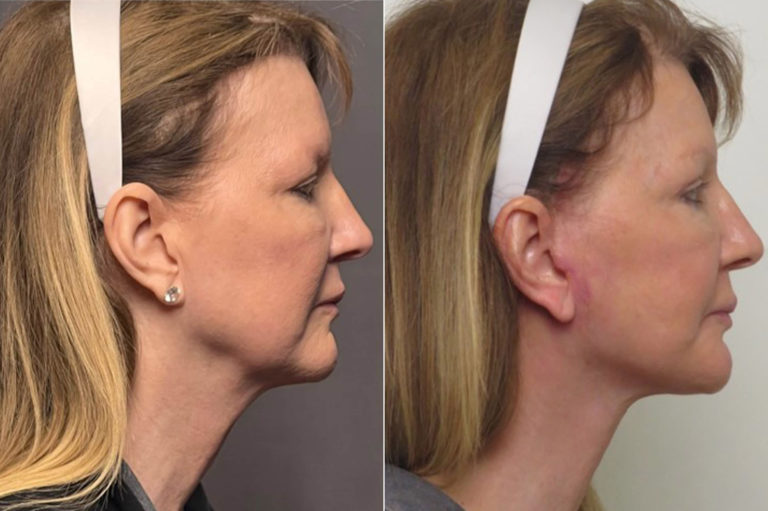 Managing Scars 
Ensuring cleanliness, gentle handling, and applying prescribed healing ointments are all pivotal facets that contribute to the successful healing process of the incision sites. The patient might also invest in scar reduction therapies. Such options can include silicone sheets or creams, which help to maintain moisture, thus promoting faster healing.
Sunlight can harm the skin and should be avoided while healing. UV radiation can slow the wound healing, cause scarring, or lead to infection. If you must go outside, use sunscreen with at least SPF 30 that is broad-spectrum, water-resistant, and has zinc oxide or titanium dioxide. Keep wounds covered with bandages to prevent infection and protect from the sun.
Keep in mind, that optimal healing takes time. Patience and adhering closely to post-operative instructions greatly assist in limiting visible scarring and achieving the best possible result.
Different Techniques for Faster Healing
One of the most effective facelift techniques in this regard is the use of deep plane surgery, an advanced surgical technique. This method involves lifting both the skin and the underlying muscles of the face, thereby restoring facial volume and reducing recovery times.
The deep plane technique works by targeting the deeper levels of the face while preserving the superficial tissues. It is a refinement of traditional facelift techniques, which seek to lessen recovery times with fewer incisions. It makes recovery easier and faster, as fewer volumes of skin and muscle tissues are manipulated, causing much less trauma.
Another useful technique to speed up the recovery process is the early introduction of gentle face exercises. They help restore facial volume and improve blood circulation, ensuring quick healing. As a rule of thumb, always consult with the doctor on the specific exercises to do and how regularly to do them to avoid complications.
Physical Activity During Facelift Recovery
Physical activity during facelift recovery is a balance. Doctors often recommend limiting strenuous activity, especially in the initial stages of healing. However, this doesn't imply patients must remain inactive. Light activity can stimulate blood flow, which assists in the healing process.
It's critical to slowly reintroduce exercise. The doctor may recommend starting with gentle walks, before gradually resuming normal activities. Performed correctly, this approach prevents strain on the facial muscles, especially the platysma muscle, which is the most impacted during cosmetic surgery.
Avoid strenuous exercise for at least two weeks after surgery. This gives your body time to heal and reduces the likelihood of bleeding, bruising, or swelling. Strenuous activity includes any form of intense exercise, such as heavy lifting, running, or aerobics.
Following the initial recovery period, listen to your body. If a certain activity causes discomfort, cease it. Always consult with your doctor before resuming intense workout routines. They are the best source of advice and can tailor recommendations based on your unique healing progression.
Overall, the key is moderation. Gradually increasing activity levels ensure you keep your muscles engaged without jeopardizing healing.
Seeking Professional Help Post-Facial Surgery
A facelift procedure can transform your appearance, and the recovery process is crucial to achieve the best results. An experienced professional is valuable during this time. Dr. Homer Hojjat provides precise surgery and post-operative care. His success record shows their commitment to patient recovery and lasting results. If you're considering a facelift, book an appointment with Dr. Hojjat for expert advice. Your well-being and satisfaction are priorities. Achieve the youthful appearance you've dreamed of!