Rhinoplasty in Irvine, CA
Homer Hojjat, MD, offers rhinoplasty in Irvine, CA – a cosmetic surgery solution for people who are unhappy with the shape of their noses. It is also a treatment option for those who have a functional problem like a deviated septum or a nasal blockage.
Nose Job
What is Rhinoplasty?
The nose is commonly considered the most prominent facial feature. A nose that complements the other features provides balance, while one that is too large or oddly shaped can make you uncomfortable with your overall appearance.
The term "rhino" refers to the nose and the word "plasty" means to mold, form, or shape. Rhinoplasty is a surgery that transforms the nose's appearance or improves the way it functions. Cosmetic doctors perform rhinoplasty to improve the aesthetic appearance of the nose or to modify a disfigurement caused by a traumatic event or birth defect.
Realistic Expectations
Rhinoplasty Candidates
If you feel that your nose doesn't complement your other facial features, then you may be a good rhinoplasty candidate. Any healthy person who has a significant nose irregularity can be a good candidate for the surgical procedure.
Those who are considering cosmetic nasal surgeries should do so with the understanding that the surgical procedure is designed to provide improvement instead of perfection. Both female and male rhinoplasty candidates should be in good physical health and emotionally stable. They must also be at least 15 years old or older to ensure that the nose has finished growing.
Procedure Gallery
Rhinoplasty Before and After Photos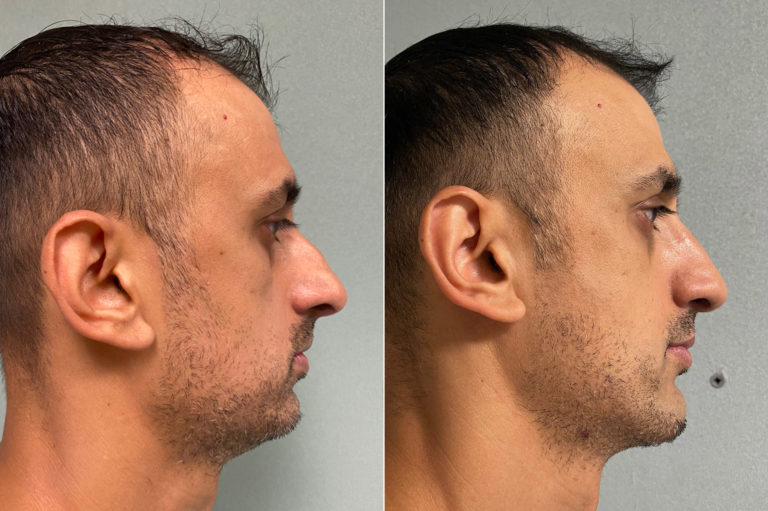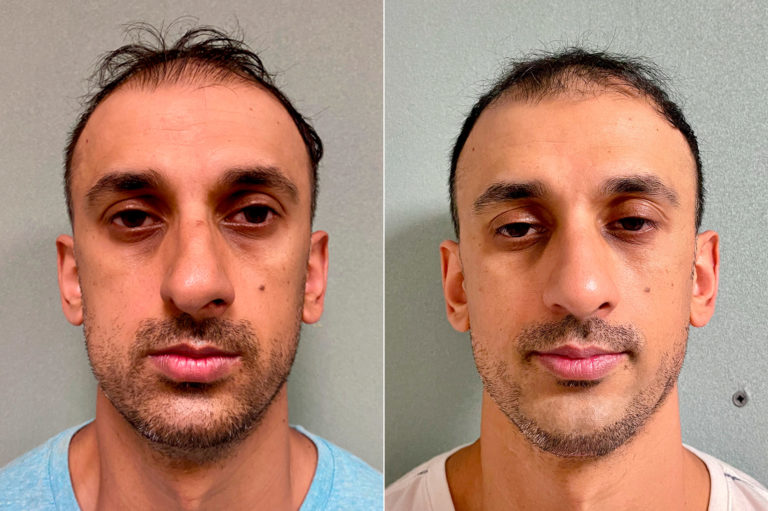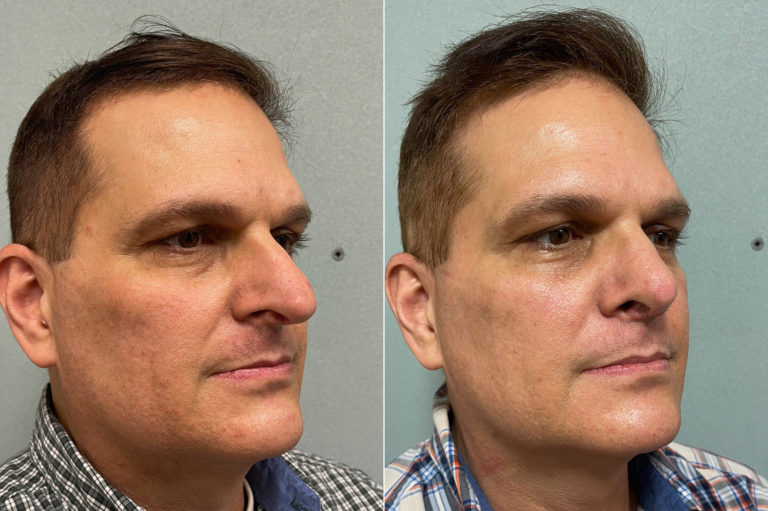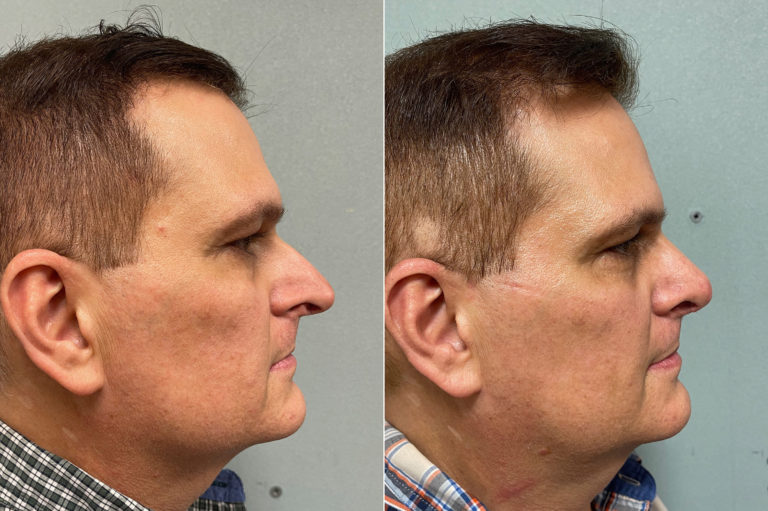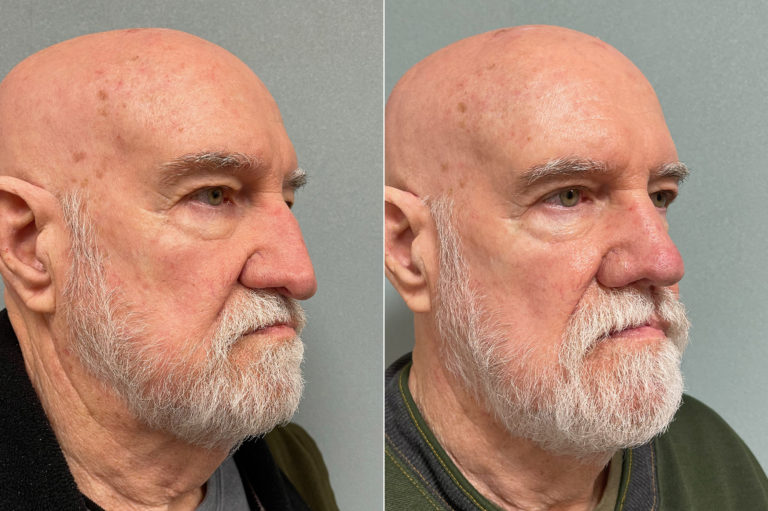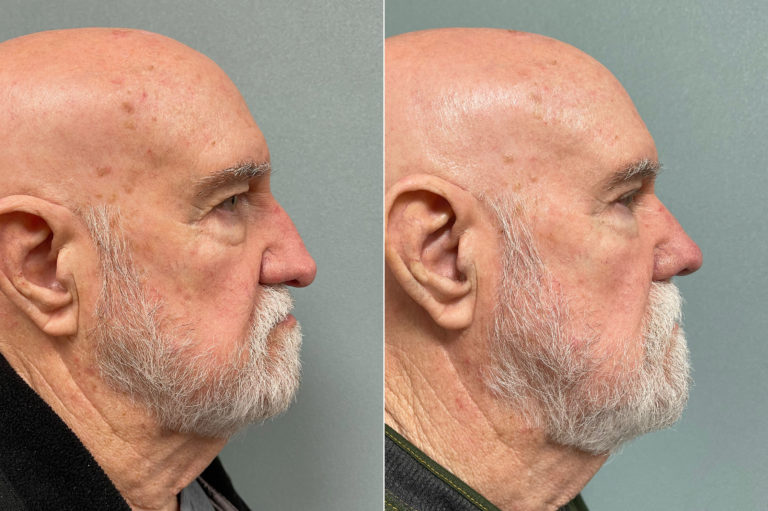 * All patients are unique and individual results may vary.
Schedule a consultation
What Can I Expect During My Rhinoplasty Consultation?
Before any cosmetic surgery procedure
Board certified plastic surgeon, Dr. Hojjat will schedule a meeting with you to discuss your goals. He will ask you what it is about your nose that bothers you and what changes you'd like to see.
During your rhinoplasty consultation
Dr. Hojjat will assess the shape and functionality of your nose in relation to your other facial features to develop the best surgical strategy. He will also discuss the risks of plastic surgeries and the amount of recovery time that you can expect.
Before recommending a treatment plan
Rhinoplasty surgeon, Dr. Hojjat will use computer-imaging technology to show you different options for your results. He will also let you know if your nose job request is realistic. Although nose surgery is highly customizable, it does have some limitations.
It's important to note that you can have your cosmetic surgeon complete other plastic surgeries at the same time as your nose job. For instance, Dr. Hojjat can enhance the shape of your chin or contour your cheeks during the same surgery.
The Procedure
What Happens During the Procedure?
Rhinoplasty is usually an outpatient surgical procedure, so you shouldn't have to spend the night in a hospital. Before your surgery begins, you'll be given a local or general anesthetic.
With a local anesthetic, you will also receive sedation. Your nose will be numbed completely, so you'll stay relaxed. With your nose numbed, you won't feel any pain during the surgical procedure. If you opt for general anesthesia, you'll sleep through your nose surgery.
When it comes to rhinoplasty, two basic types are available, open or closed. During a closed rhinoplasty procedure, Dr. Hojjat will only make incisions within the interior of your nostrils.
During an open surgical procedure, Dr. Hojjat will make incisions within the nostrils and along their base. This gives him greater visibility during the plastic surgeries. Scars from an open rhinoplasty typically heal very well. During the initial consultation, Dr. Hojjat will evaluate your nose and discuss your goals to determine which option is better suited for you.
For the procedure itself, Dr. Hojjat will make the needed incisions to transform your nose's cartilage, tissue, and bones. He may need to remove extra tissue and transfer cartilage grafts from your septum to the end of your nose for enhancement purposes.
Once the reshaping process is complete, Dr. Hojjat will close the incisions, and you'll be sent to the recovery room.
Recovering from Nose Surgery
After rhinoplasty, the area around your nose and eyes will swell. You may also experience bruising.
Because of this, it's a good idea to schedule the surgery during a work vacation or when you have a long gap between social engagements. In fact, you will need to wait two or three weeks before you return to your everyday life. Minor swelling around and in your nose may be present for as long as a year, but if it does last this long, you'll be the only one to notice it.
To protect your nose job results following plastic surgeries, your doctor will protect your nose with a nasal splint. During the early recovery stages, plan to keep your head elevated as this will decrease swelling.
Most people heal from a nose job quickly, but it is important to avoid strenuous activities initially, even if you feel great. After rhinoplasty, you should not participate in vigorous activities for three weeks.
Possible Complications
What are the Potential Risks and Complications?
As with other plastic surgeries, rhinoplasty is associated with some risks and potential complications. General risks include bleeding, scarring, and infection.
Following the nose job surgery, you may experience numbness, pain, or skin discoloration. In addition, the wound may not heal as quickly as it should.
Damage to the septum is another possible complication, as are skin problems.
FAQ
FAQs about Rhinoplasty
What is the best way to sleep following rhinoplasty?
Your surgeon will advise you to sleep with your head elevated. Try to avoid falling asleep on your side because you may inadvertently move in ways that constrict the nasal area. 

However, if you wake up on your side, don't panic. The cast should keep your surgeon's cosmetic treatment efforts intact.
How long will the swelling last?
For most patients, major swelling lasts for two to three weeks after the surgery, but this is often individual to the patient. The length of time that swelling lasts is usually based on your general overall health, age, and whether or not you smoke.
What is the best age for a rhinoplasty procedure?
For women, the best time to seek rhinoplasty is when they are 17 or older, and for men, when they are 18 or older. Ultimately, the ideal rhinoplasty age depends on a person's physical and emotional maturity.
If I gain weight, will it affect the results of my rhinoplasty?
No, weight gain should not affect your rhinoplasty results. The tissue of your nose contains few fat deposits. Because of this, weight fluctuations are unlikely to change the appearance of your nose.
Will the results of my rhinoplasty last?
As long as your rhinoplasty procedure occurs after your nose has stopped growing, the results of the cosmetic treatment should be permanent. Most people's noses stop growing once they have reached their late teens.
Improving Your Nose's Appearance
If you're considering rhinoplasty in Irvine, facial plastics expert Dr. Homer Hojjat in Irvine, CA will be glad to discuss your nose enhancement options with you to ensure that you know what to expect before, during, and after the surgical procedure. To schedule a consultation, call 949-996-3274 and contact our office today.
ADDRESS:
113 waterworks way, Suite #100
Irvine, CA 92618
PHONE:
HOURS OF OPERATION:
Mon-Friday: 09:00 AM – 5:00 PM
Sat-Sun: Closed