Blepharoplasty in Irvine, CA
Puffy eyes or drooping eyelids can make you look exhausted and older than your years or might even block your vision. Blepharoplasty is a surgical procedure that removes excess skin from the eye area to correct these problems. Also known as an eyelid lift or eyelid surgery, Dr. Homer Hojjat offers expert blepharoplasty in Irvine, California for patients who want natural looking results and a refreshed, youthful, and alert appearance.
Blepharoplasty
What is Blepharoplasty?
Blepharoplasty is a surgical procedure that involves trimming away excess skin from the eyelids. It also removes excess fat from the eye area and can involve tightening the muscles in the area for a firm and youthful appearance.
Two types of eyelid surgery can be performed: upper and lower. Some blepharoplasty patients choose to have an upper eyelid crease lift, some opt for a lower eyelid lift. In some cases, a combination of procedures is the best option.
Upper Blepharoplasty
As you get older, the skin and muscle of the upper eyelids often loses its elasticity. It can begin to sag and droop, giving the eyelids a heavy appearance.
Some people are born with an eyelid crease that naturally hangs low. Low-hanging eyelids can block the eyes, obstructing a person's vision.
Upper eyelid crease surgery focuses on tightening the upper lids, either to restore vision or to create a more youthful appearance.
Lower Blepharoplasty
A layer of fat surrounds the eyes, helping to protect and cushion them. As a person gets older, the fat can shift and change position. The muscles in the eye area can weaken so that they no longer adequately support the fat.
This can cause the fat to shift into the area under the eyes, creating bulges commonly known as under-eye bags. The goal of lower blepharoplasty is usually to treat those under-eye bags, creating a more youthful look.
A lower eyelid lift can also smooth out wrinkles in the under-eye area and can make the eyes look more awake and alert.
Eyelid Lift
How A Blepharoplasty It's Done
An eyelid lift is a surgical procedure that will require some preparation and involves a recovery period. Usually, upper blepharoplasty can be performed in the office, while most lower lid blepharoplasties are performed as an outpatient procedure, meaning you can go home after surgery.
Once the area is fully numbed, Dr. Hojjat will make an incision. The location of the incision depends on the type of procedure you're having.
During an upper eyelid lift, Dr. Hojjat usually makes the incision in the eyelid crease of the upper lid. This means that any scarring will be very well concealed by the natural contour of the eye.
When performing a lower eyelid lift, Dr. Hojjat typically makes the incision in the lower lash line. They can also make the incision on the inside of the lower lid.
After making the incision, Dr. Hojjat will remove excess skin on the eyelids or reposition the fat in the area, depending on your goals for the surgery procedure. Then, they'll close the incisions with sutures. Depending on the quality of the skin and muscle, fractional laser resurfacing can also be performed at the same time.
How long the surgery will take depends on the specifics of the procedure. A surgeon can usually perform blepharoplasty on both lids in two hours. If you're just having surgery on the lower or upper lids, the process will take approximately one hour.
Usually, if you have surgery on both upper and lower lids, Dr. Hojjat will start on the upper lids, then work on the lower ones.
Candidates for an Eyelid Lift
You might be a candidate for an eyelid lift if you have drooping upper eyelids or baggy lower eyelids. The surgery can be performed as a cosmetic procedure or as a way to improve your vision.
Your surgeon will perform a medical exam before the surgery to ensure you're healthy enough for the procedure. They are also likely to ask you about any chronic conditions you have and any medications you take.
A good candidate for eyelid surgery must also understand what to expect from the procedure and the amount of downtime it involves. It's important to have realistic expectations about the surgery, including how it will change your appearance.
Preparation
How to Prepare for Eyelid Surgery
If you think blepharoplasty is the right option for you, the first step is to schedule a consultation with a skilled board-certified plastic surgeon, like Dr. Hojjat. The consultation will give you the opportunity to learn more about the procedure and to see if it's right for you.
During the consultation, Dr. Hojjat will ask you about your goals and examine your eye area to see if you could benefit from an eyelid crease lift. They might recommend either upper or lower blepharoplasty, or both, depending on what you hope to get from the procedure.
The consultation is also a time for you to ask Dr. Hojjat plenty of questions.
Procedure Gallery
Blepharoplasty Before and After Photos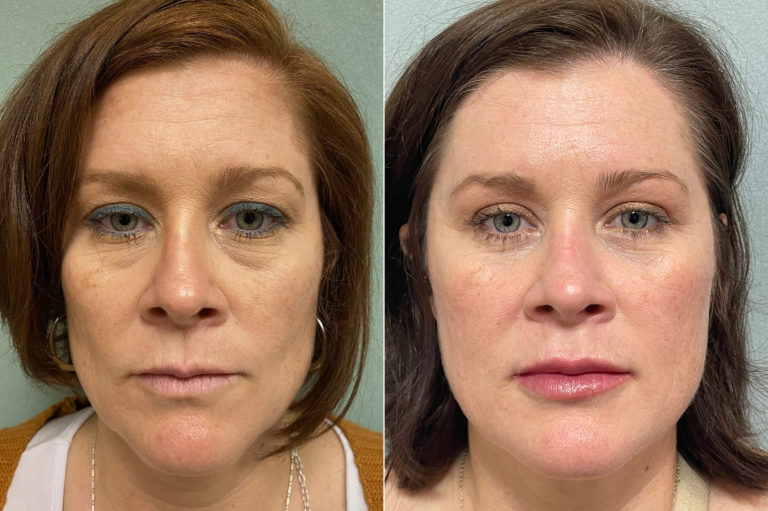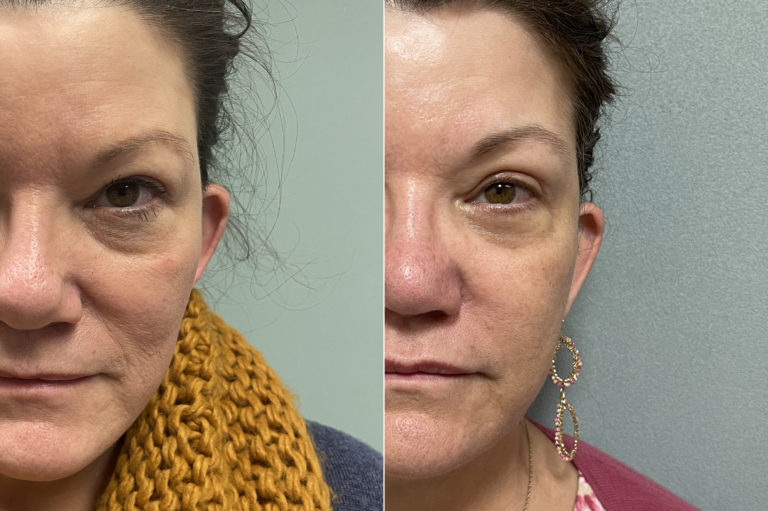 * All patients are unique and individual results may vary.
Youthful eyes
Benefits of Eyelid Surgery
Blepharoplasty offers multiple benefits to the right candidate. One notable benefit of the procedure is that it can restore a more youthful appearance.
The eyes are usually the first area of the face to show signs of aging. The skin around the eye area is thinner than in other parts of the face, so it often starts to show wrinkles or lose elasticity first.
An eyelid lift can reduce the signs of aging in the area, making you look more youthful. As a result, you might experience a boost of confidence after the surgery.
While eyelid surgery is often thought of as a cosmetic procedure, it can have functional benefits, too. If you have heavy eyelids that droop down, your vision can be obstructed. An upper eyelid lift can reduce the sagging in the lids, helping to improve your vision.
Recommendations
Recovery After Blepharoplasty
You can expect to need some downtime after blepharoplasty. You might need to take about a week off from work, depending on the demands of your job and the recommendation of your surgeon.
Right after the surgery, your surgeon will likely apply an ointment to soothe the area and might provide a cold compress to help minimize swelling.
Swelling and bruising in the area around the eyes is to be expected after the procedure. Your eyes might also feel dry. Cold compresses, ointments, and medications can help to improve your comfort.
To protect your eyes and the skin around them from sun exposure, it's a good idea to wear large sunglasses with UV protection in the days and weeks following the surgery. Glasses can also help protect the eye area from strong winds.
Your eyes might feel tired after the procedure. It's a good idea to avoid anything that might cause eye strain, at least during the first few days. That can include reading, watching TV, or using any other type of screen.
It's also a good idea to avoid any physically challenging activities after your eyelid surgery. Your surgeon will let you know when you've recovered enough to resume activities such as working out or cleaning your home.
Although you can put ointments on the eyes as recommended by your surgeon, you should wait 2 weeks before you can begin applying eye makeup again. Your surgeon will give you the all-clear when it's okay to start wearing cosmetics.
Cost of Blepharoplasty
Cosmetic procedures are usually not covered by health insurance. When you meet with Dr. Hojjat for a consultation, they can give you a better idea of the cost of the procedure. Additionally, they can discuss any payment options with you, including available financing options.
FAQ
Frequently Asked Questions About Eyelid Surgery
How long does blepharoplasty take?
An eyelid lift usually takes one to two hours or less, depending on whether you have an upper or lower eyelid lift or both.
How long do the results from blepharoplasty last?
The results from blepharoplasty can be permanent. It's worth noting that your eyes will continue to age, so you might begin to see some drooping or other changes as the years pass. Protecting the eye area from the sun and following a healthy lifestyle can help to slow down the aging process.
Does an eyelid lift hurt?
Anesthesia will prevent you from feeling anything during the eyelid surgery itself. Afterward, you might experience some discomfort or dry eyes. Medications and ointments can help you manage any discomfort.
When can I wear makeup after eyelid surgery?
Your surgeon will let you know when it's safe to wear makeup again after your eyelid surgery. Usually, you can expect to wear cosmetics again, two weeks after the procedure.
Will I have scars after an eyelid lift?
The incisions made during an eyelid lift will cause minor scarring. However, the location of the incisions means that the scars won't be very visible. In an upper eyelid lift, the incisions are hidden in the crease of the eyelid. In a lower eyelid lift, the incisions are made in the lash line or inside the lid itself.
What are the risks of blepharoplasty?
When performed by an experienced plastic surgeon, blepharoplasty is generally a safe procedure. But every type of cosmetic surgery has its risks. Those risks can include infection, changes to the shape of the eyelids, vision issues, and bleeding.
Can I combine blepharoplasty with other surgeries?
Yes, you can combine an eyelid lift with other facial plastic surgeries to rejuvenate the entire face. You might combine it with an eyebrow lift or facelift, depending on your goals. Your surgeon can let you know if they think combining surgeries is a good option.
Are there non-surgical options?
Non-surgical treatments, such as Botox injections or dermal fillers, can minimize the signs of aging around the eye area. But the results they provide won't be as long-lasting as an eyelid lift. Injectables also don't fix the problem of drooping or sagging eyelid skin.
How much does it cost?
The cost of eyelid surgery depends on the type of procedure you have but is usually few thousand dollars. Your surgeon can provide you with an estimate during your consultation. You can also discuss payment options at that time.
Irvine, CA
Schedule a Blepharoplasty Consultation
Whether you're bothered by the signs of aging around the eye area or are having problems with vision due to sagging skin, an eyelid lift might help. To learn more about the benefits of the procedure and what you can expect, schedule a blepharoplasty consultation with Dr. Homer Hojjat in Irvine, California today.
ADDRESS:
113 waterworks way, Suite #100
Irvine, CA 92618
400 Newport Center Dr, Suite #704
Newport Beach, CA 92660
PHONE:
HOURS OF OPERATION:
Mon-Friday: 09:00 AM – 5:00 PM
Sat-Sun: Closed