Facelift in Irvine, CA
Enhance your natural beauty with a less invasive facelift and faster recovery.
Irvine plastic surgeon Dr. Homer Hojjat, MD, of SoCal Aesthetic Surgery, assists patients in emphasizing their natural beauty with beautiful and natural-looking facelift results. If you are discouraged because the face you see in the mirror looks older and more tired than you really feel, a facelift can refresh your appearance, improve signs of aging, and boost your self-confidence. Facelift surgeries are available for healthy patients from their 30's to well into their 80's.
Facial Rejuvenation
What is a Facelift?
The term "facelift" describes an aesthetic procedure that surgically rejuvenates the lower area of the face and jawline. A "face lifting" is performed to tighten sagging skin and muscles in the lower face.
Dr. Hojjat uses the latest technology and techniques to provide his patients with minimally invasive procedures, reduced recovery time, and natural, long-lasting results. The incisions are mostly confined to the hairline and are easily camouflaged.
Patients who are experiencing more advanced signs of aging, such as pockets of fat on the neck, a reduction in collagen production, significant banding, or advanced sagging may benefit more from a combined facelift and neck lift procedure. Dr. Hojjat tailors every facelift procedure to meet his patient's needs.
Limited incision facelifts or mini facelifts are recommended for patients who have minimal neck banding and thin necks. This is a less invasive procedure that confines the incision to the area around the ear and hairline.
The incision on the anterior neck is used in a mini facelift and swelling, and bruising is confined to the lateral neck and around the ears. Individuals with medium to long hair can completely cover sutures, swelling, and bruising immediately after the procedure.
A more youthful look
Facelift Benefits
A facelift can surgically remove signs of aging and restore a more youthful appearance. It improves patients' self-confidence thanks to the tightened, refreshed, and rejuvenated skin texture. And the benefits of a professional facelift by Dr. Hojjat has their perks, such as:
Tightens the Skin and Tissues
A facelift can tighten sagging skin around the neck and jowl areas. It is a restorative surgery capable of smoothening your face's skin texture around facial bone structure.
Reduces Wrinkles and Rewinds Skin Texture
Not everyone is a fan of the way their skin ages with time. Luckily, a facelift is a great solution to this! A facelift can successfully remove several signs of aging by improving wrinkled skin texture, smoothing out sagging skin, and tightening these areas for a more youthful look!
Is a Minimally Invasive Procedure
Thanks to medical advancements, facelifts these days require smaller cuts and result in less recovery time. It works wonders on your skin's aging issues due to its minimally-invasive procedures, as the scars are small and usually completely hidden. Other procedures, like thread face lift, are even less invasive but only provide a temporary lift on the skin and superficial layers only.
Long-Lasting Results
When you follow your surgeon's post-operative skincare routine, you can enjoy the long-lasting results of facelift surgery. Some crucial steps help maintain the new and improved skin texture.
A facelift is for Everyone!
The facelift procedure is available for all genders as long as you have a healthy skin texture and health. The benefits of this surgery can help both men and women and improve their skin texture to beautify their looks.
Most patients who get a facelift enjoy enhanced self-esteem and confidence. They look and feel more energized and youthful overall.
Procedure Gallery
Facelift Before and After Photos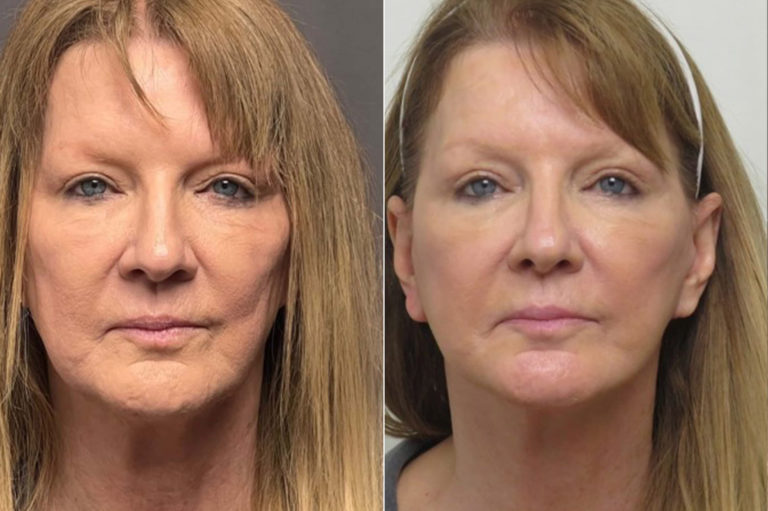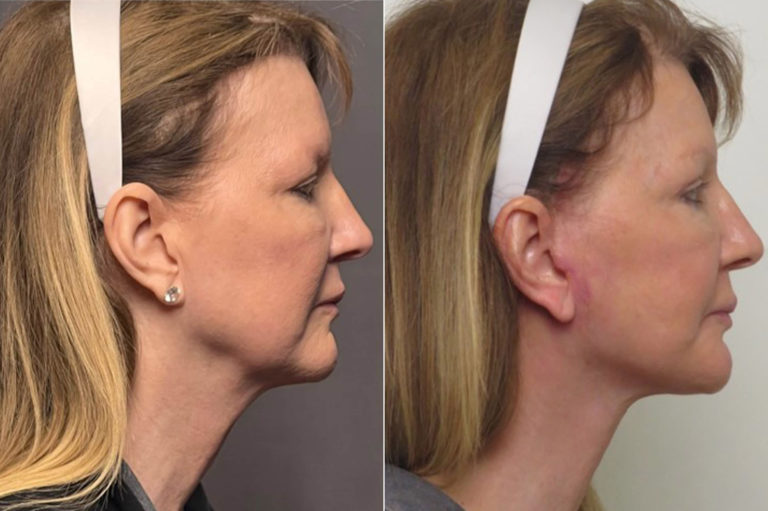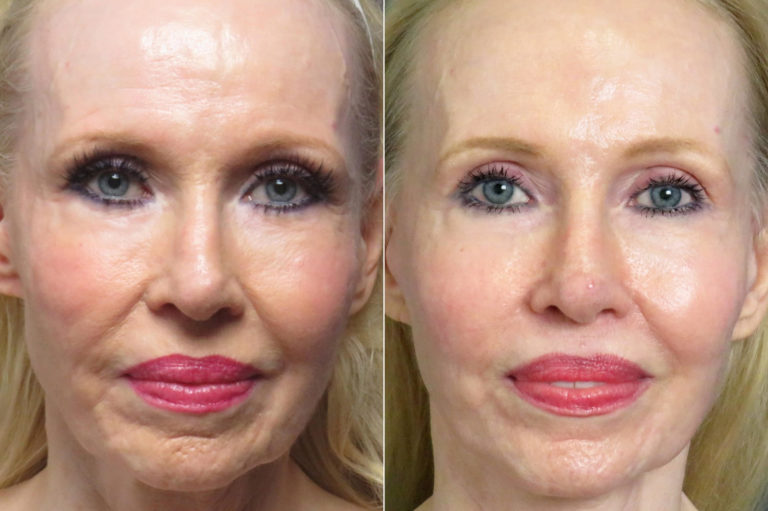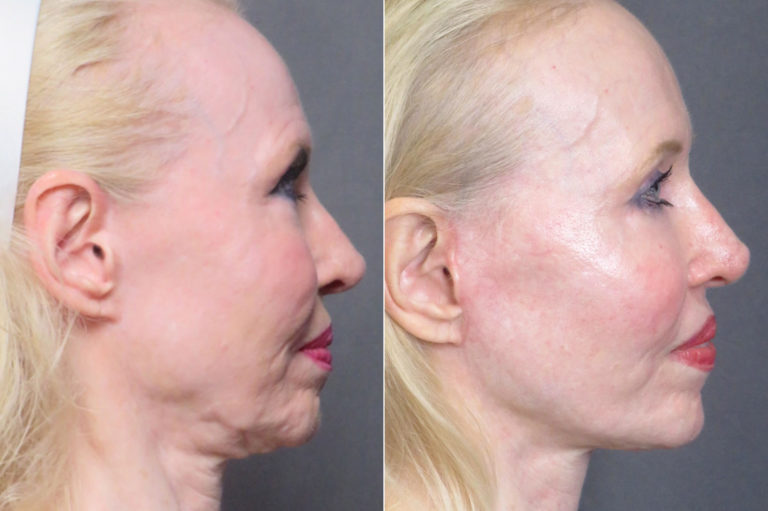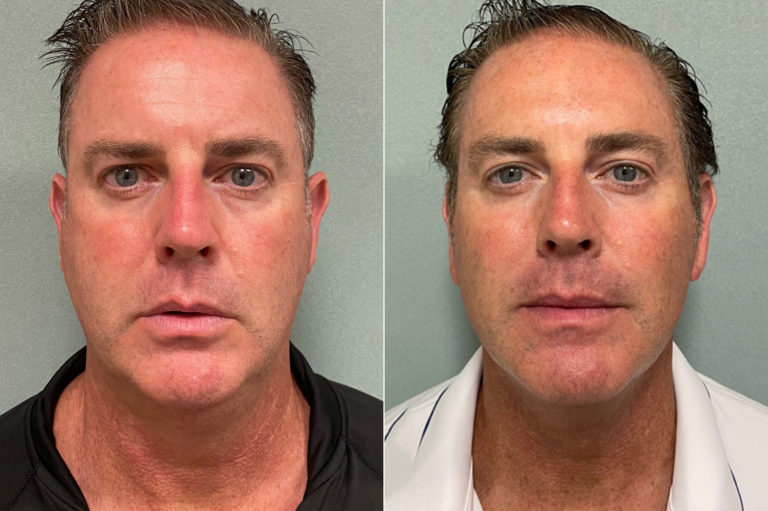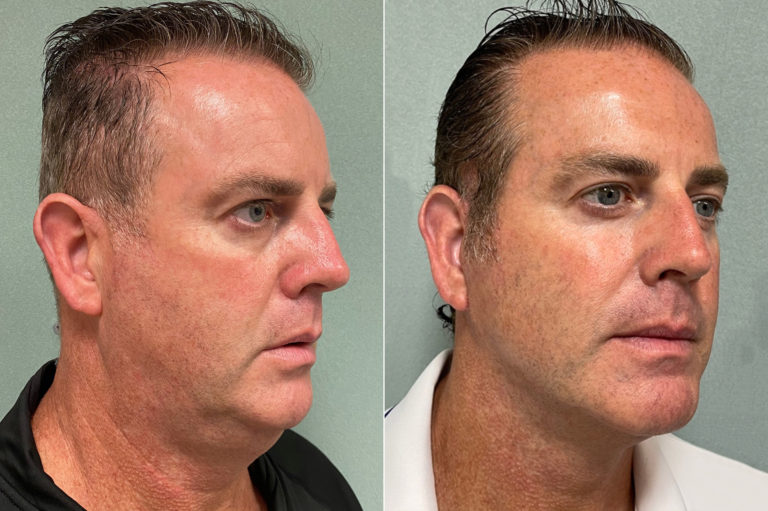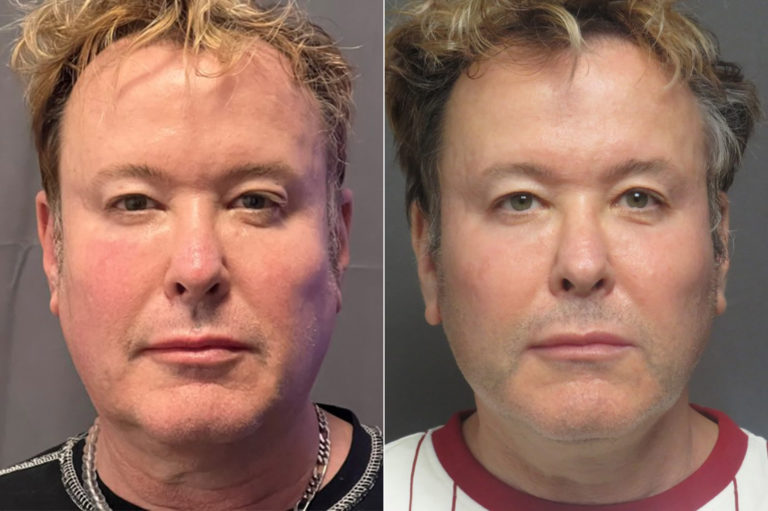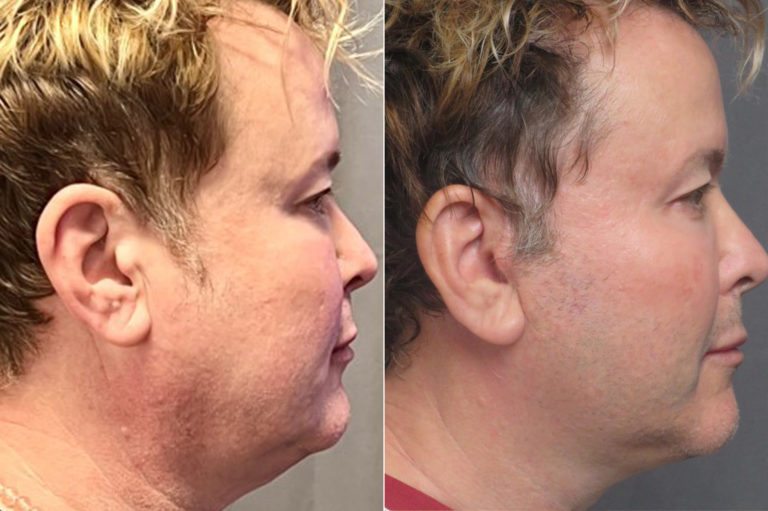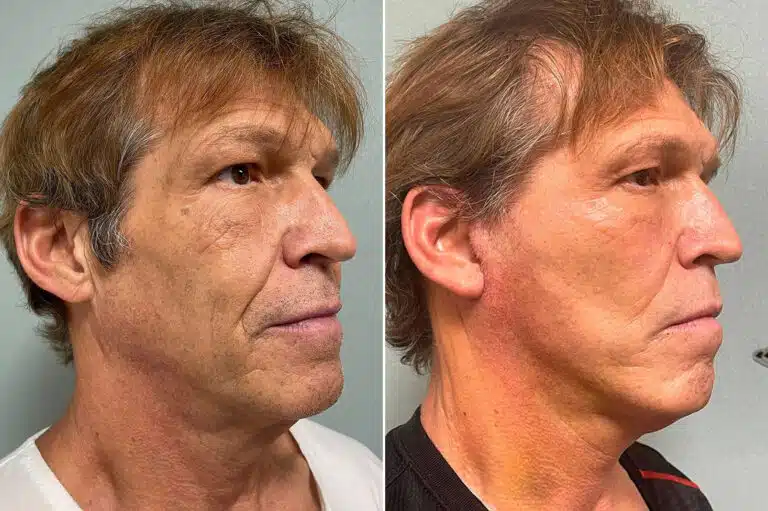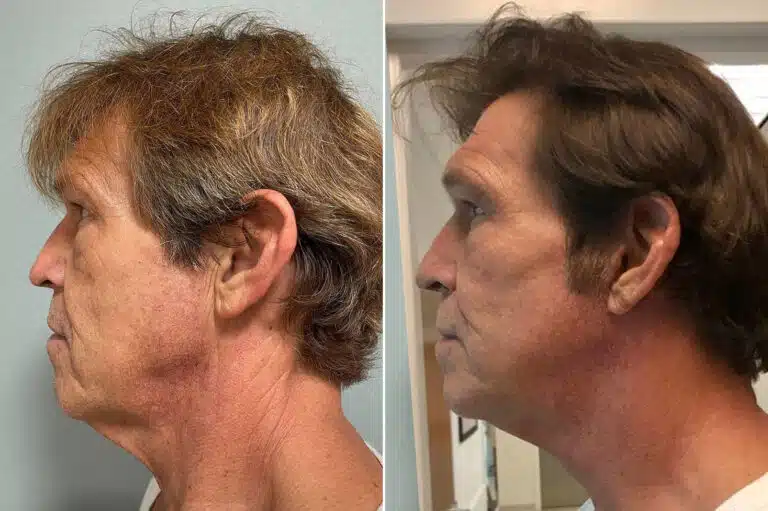 * All patients are unique and individual results may vary.
Realistic Expectations
Ideal Facelift Candidates
The following crucial factors are what makes a patient ideal for facelift surgery:
Ideally, in Good Health
Maintaining good health helps to recover quickly and leads to lesser risks from the anesthesia. General good health includes 0 heart issues, immunity disorders, blood pressure problems, etc.
No Smoking Habits
Smoking can drastically affect your facelift surgery. For example, it can lead to post-procedure complications. Constant smoking habits can cause Vitamin C and Vitamin D deficiency, thereby affecting your collagen production synthesis leading to scars.
Other side-effects of smoking are implant rejection, higher infection risks, slowed recovery, and pain in the procedure areas post-facelift.
Healthy and Elastic Skin
If your skin maintains some natural elasticity and good health, it can positively impact your facelift's recovery process. Flexible and bouncy skin texture can accept the facelift procedure and help improve your skin texture towards optimum expectations.
Facelift Expectations are Realistic
Since skin health, genetics, and habits can affect facelift results it is important to maintain realistic expectations after the procedure. While it tightens the sagging skin on your face, a facelift does not affect your facial bone structure.
A good candidate for a facelift is medically and emotionally healthy. Facelift procedures are beneficial for patients who are experiencing premature aging of the lower face, jawline, and neck. Dr. Hojjat's younger patients often undergo a mini lift while older patients often benefit from a variation of the traditional facelift.
Preparation for the Facelift Procedure
Before the facelift procedure, Dr. Hojjat will run some tests and reviews to green-flag your candidature for the surgery.
First, make sure to honestly answer questions on your current and past medical conditions, health complications, previous surgeries, smoking and drinking habits, etc.
He might ask for physical exam records and prescribe a specialist consultation who can deem you fit for the cosmetic surgery. Make sure to also share your prescribed medication intake, as well as herbal medications, over-the-counter medications, etc.
Up next, the doctor will take pictures of your face to examine your facial form, bone structure, skin health, and fat volume distribution.
These pieces of information are vital to a professional surgeon like Dr. Hojjat, who take all steps necessary to ensure that your facelift is successful.
Schedule a consultation
Facelift Consultation
During your consultation, you will meet Dr. Hojjat, who will introduce you to our practice and will walk you through the facelift process. Your medical history will be obtained and Dr. Hojjat will listen to your goals and concerns. After a facial examination, Dr. Hojjat will recommend a facelift procedure tailored for you in order to achieve your goals with the least amount of downtime.
Dr. Hojjat will share before and after photos to give you an idea of what to expect in terms of results. After the consult is completed, you can discuss costs and financing with our staff and will be given an option to select a surgery date.
The doctor feels that successful facial plastic surgery is best achieved when a good rapport is developed and maintained between himself, the patient, and the staff during the consultation and appointments.
The Procedure
What to Expect During the Facelift Procedure
A facelift usually takes about 3-4 hours. Dr. Homer Hojjat makes sure to check the patient's candidacy and overall risk factors before finalizing this cosmetic surgical procedure. And the steps to these procedures are:
Step 1: You Receive Your Anesthesia
At first, Dr. Hojjat will give you anesthesia and sedation or general anesthesia. He will, of course, recommend the best option that suits your comfort, health, and preference.
Step 2: Facelift Incision
Up next, Dr. Hojjat will perform 2 incisions.
The first one will start at the temples at the hairline and continue down the front and the back of your ears, ending at the lower scalp. He will then proceed to sculpt facial fat from jowls and neck and redistribute it around for a smoother skin texture. Finally, he will redrape the skin over the contours and trim the excess sagging skin.
For the second incision, Dr. Hojjat will make a small incision under your chin to improve the surgery's results around your face and neck.
Step 3: Closing Your Incisions
Incisions are usually closed with sutures. After approximately one week, visit Dr. Hojjat to have them removed. The slight bruises on your skin will take around 7-10 days to heal.
You might experience post-operative pain and soreness with some tightness under your skin. Dr. Hojjat will prescribe extra-strength Tylenol for one or two days for these mild discomforts.
He may prescribe other post-operative medications depending on your health, post-operative results, and healing.
Recommendations
The Facelift Recovery Process
You may initially experience soreness on the sides of your neck with tightness under the chin. Your face will appear puffy, pale, and bruised at first. The bruising could take 7 to 10 days to fade.
Facelift sutures are removed in approximately in one week. Many patients resume social activities within 10 days to two weeks and improvements in the incisions and swelling will continue to improve over time.
Residual swelling and some areas of firmness can be expected but will improve over the next 6 weeks. These areas of stiffness tend to be minor and are only noticeable under close inspection.
FAQ
Frequently Asked Questions About Facelift
How long does facelift surgery take?
A facelift can take up to 3-4 hours to complete.
Is facelift surgery painful?
Most patients experience only mild post-operative pain that is manageable with extra-strength Tylenol for one to two days. Post-operative pain medication may be prescribed as needed.
Do facelifts result in permanent scarring?
Facelift incisions are made around the ear and in the hairline with possible incisions under the chin. Technically there is a scar, but it is usually completely hidden.
When can I resume exercising after a facelift?
Light walking may be resumed one week after a facelift, and more vigorous exercise may be resumed after two weeks, with heavy activity after three weeks. Your surgeon will give you specific guidelines.
Does a facelift have risks?
All surgery involves some risks. Facelift risks may include scarring, swelling, bruising, hair loss, and nerve injury.
Is the facelift right for me?
Facelift surgery offers both physical and emotional benefits. The incisions are easily concealed, there are minimal side effects, and the surgery will enhance your natural features by tightening skin laxity and smoothing deep wrinkles.
How much does a facelift cost?
The cost of a facelift will involve a combination of surgical fees, operating room fees, and anesthesia fees. These fees vary depending on a number of factors, including location or even other procedures (like eyelid surgery) if you're having multiple procedures at once. Other costs may include medications and supplies needed for your recovery. Our office will work within your budget to accomplish your desired outcome whenever possible.
Irvine, CA
Learn More About the Facelift Procedure
Plastic surgeon Dr. Homer Hojjat is a skilled board certified plastic surgeon in Irvine, CA, offering advanced facial surgery and beautiful results. To learn more about facial rejuvenation, call SoCal Aesthetic Surgery at 310-729-4475 to request a facelift consultation with Dr. Hojjat.
ADDRESS:
113 waterworks way, Suite #100
Irvine, CA 92618
400 Newport Center Dr, Suite #704
Newport Beach, CA 92660
PHONE:
HOURS OF OPERATION:
Mon-Friday: 09:00 AM – 5:00 PM
Sat-Sun: Closed