Earlobe Repair in Irvine, CA
Transform the discomfort of misshapen or damaged earlobes into a serene self-assurance with Earlobe Repair at SoCal Aesthetic Surgery in Irvine, CA. Under Dr. Homer Hojjat's proficient care, unveil an aesthetically pleasing ear contour, enhancing your facial harmony and boosting your self-confidence.
Unlock the Benefits of
Earlobe Repair for Symmetrical Appeal
Delve into the transformative advantages of earlobe repair, unveiling a trio of captivating benefits sculpted to your aesthetic aspirations.
Youthful Revival
Achieve a balanced earlobe structure, harmonizing your facial aesthetics.
Enhanced Appearance
Rectify elongated or torn earlobes, embracing an aesthetically appealing look.
Boosted Confidence
Relish the self-assurance that comes with improved earlobe appearance, fostering a positive self-image.

Misshapen earlobes
Causes of Earlobe Damage
There are many ways the earlobes may become damaged or misshapen. Heavy earrings can stretch earlobes and elongate them over time, while gauges create a large hole within the earlobes, stretching the tissue far beyond the point of natural retraction.
Many patients who seek out cosmetic earlobe repair surgery do so because their earlobes have been massively misshapen by gauges. Even after they choose to stop wearing gauges for personal or professional reasons, their ears remain long and floppy, with a large hole in the middle of the lobe. Gauge repair is a type of ear lobe reduction that is used to restore and rejuvenate the earlobe.
Other people are born with large/misshapen earlobes or may experience earlobe lengthening as the natural aging process progresses. Injury to the earlobes, which can involve rips and tears, causes the lobes to appear uneven and damaged. Whatever the cause, earlobe damage is a common issue that can be corrected with surgical repair.
The benefits
Why Choose Earlobe Reduction?
The physical benefits of earlobe surgery are obvious: the earlobes will be restored to a normal shape and size, and they will no longer have a negative impact on the patient's appearance. As the procedure is almost always strictly for cosmetic reasons, most patients choose surgical repair for their own sense of confidence and self-esteem.
After surgery, patients no longer feel the need to cover their ears in public or feel embarrassed about others seeing their ears. The change in a patient's appearance may be small, but the procedure can make a big difference in a person's life.
Candidates for Earlobe REDUCTION
Ideal candidates for earlobe reduction are men and women who are unhappy with the size, shape, or appearance of their earlobes. People with large earring holes, elongated earlobes, or those who used to wear gauges are often great candidates for this simple, minimally-invasive surgical procedure.
Patients should be in good health to be cleared for surgery and must maintain realistic expectations. Smokers must be willing to quit to help prevent complications of earlobe repair and promote proper healing. Dr. Hojjat assesses the candidacy of each individual patient during the initial consultation and is happy to advise patients on the procedures he thinks will suit their needs.
Schedule a consultation
An Earlobe Surgery Consultation
Before scheduling an earlobe reduction, patients must meet with Dr. Hojjat at our Irvine offices to discuss their goals and to ensure that they are good candidates for the procedure. This meeting allows prospective patients to get to know Dr. Hojjat and his staff and get a custom treatment plan.
During the consultation, Dr. Hojjat goes over the patient's health history and asks questions about their aesthetic goals and expectations. He will perform an exam of the earlobe area and make suggestions for treatment options. Finally, patients can ask questions and address any concerns they may have. For patients desiring a faster correction, procedure room time and the initial consult can be scheduled on the same day.
Procedure Gallery
Earlobe Repair Before and After Photos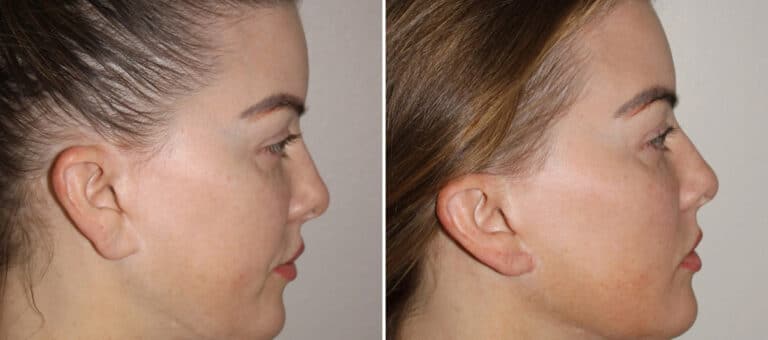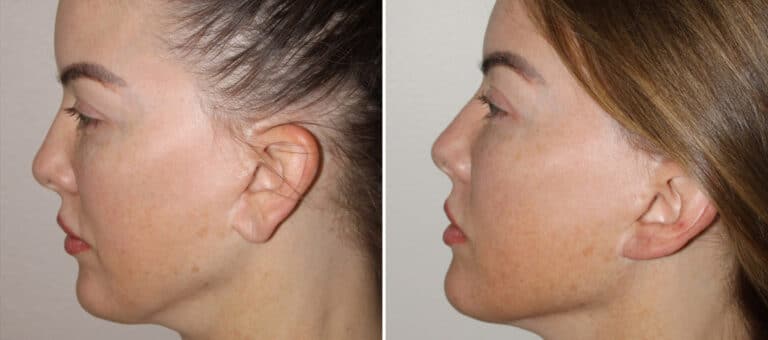 * All patients are unique and individual results may vary.
The Procedure
The Earlobe Reduction Procedure
Earlobe surgery is a minimally invasive surgery that is performed under local anesthesia in Irvine. Although patients are awake during the surgery, they will feel no pain.
Each earlobe should take around 10 to 15 minutes to repair. Patients can return home shortly after the procedure.
Local anesthesia is sufficient to numb the area comfortably, and Dr. Hojjat will make incisions in discreet locations. No one should notice the scars once the incisions have fully healed.
The specific surgical technique used will depend on the type and extent of the damage being repaired. In some cases, it is enough to simply remove any scar tissue and then suture the earlobe back together into its natural shape. However, this method typically isn't sufficient in situations where the damage is more extensive, such as a full tear or when the lobes are more significantly drooping or stretched.
In situations such as these, it is usually necessary for the surgeon to actually rearrange the tissue and thus fully reshape the lobe back into its natural shape—similar to putting a puzzle back together. This same technique can also be used in cases where a person simply feels their earlobes are too big or too small.
Once he has completed the reshaping process, Dr. Hojjat will close the incisions, and the patient can head home to start the recovery process. Tiny sutures are placed throughout the newly reconstructed lobe to ensure everything holds together properly until fully healed.
Recommendations
Earlobe Repair Surgery: Healing Time
Since earlobe reduction is a procedure with minimal surgical intervention, the healing process shouldn't have much of an impact on patients' lives. During the initial healing period, some swelling is normal, and patients should sleep with their heads elevated for the first day to help minimize this. Over-the-counter pain medications are usually sufficient to control any discomfort during post-operative care.
Downtime is minimal. Most people go back to work and do other everyday activities the next day. About 5-7 days after surgery, Dr. Hojjat will remove the sutures during a follow-up appointment. Strenuous exercise should be avoided for 2 weeks after surgery for complete healing.
Why Choose
Dr. Homer Hojjat
Dr. Hojjat completed a prestigious fellowship in Facelift and Cosmetic Facial Plastic Surgery at Premier Image in Atlanta and Emory University, where he participated in and performed hundreds of facial aging and complex rhinoplasty procedures.
Dr. Hojjat brings a wide breadth of knowledge to modern cosmetic facial plastic surgery. He is a certified Head and Neck Surgeon by the American Board of Otolaryngology-Head and Neck Surgery.
He is an expert in the intricate structures of the face and neck and he understands all aspects of facial aging in order to provide the most optimal solutions for his patients.
FAQ
Frequently Asked Questions About Earlobe Surgery
Could my gauged ears affect my ability to get a job?
It's an unfortunate fact, but many companies are still quite conservative and place a strong emphasis on appearance. In fact, some companies have policies that expressly forbid employees from having visible tattoos and gauged piercings, which means your stretched-out lobes could immediately disqualify you from a great job.
Not only that but there are definitely employers that are less likely to take you seriously. This means you could get skipped over for a new job or promotion even if the company doesn't strictly forbid gauged ear piercings.
Can I have my ears re-pierced after earlobe surgery?
Typically, yes, although you may be advised to avoid heavy earrings in the future. Four weeks after the initial repair, Dr. Hojjat can re-pierce the ears for you in the office.
Does earlobe surgery hurt?
The procedure is minimally invasive, and most patients experience only a bit of discomfort. Dr. Hojjat can give you recommendations for safe over-the-counter pain pills and techniques for minimizing your discomfort after surgery.
Can I be asleep during my surgery?
Earlobe surgery by itself doesn't require general anesthesia. It only adds to the risks and costs of the procedure. You can ask the doctor about sedation options in addition to local anesthesia if you're nervous about the procedure.
How should I choose an earlobe repair surgeon?
Be sure to check the surgeon's credentials before booking a consultation. Any plastic surgeon with extensive experience in facial surgery can typically perform earlobe repairs with no issues.
ADDRESS:
113 waterworks way, Suite #100
Irvine, CA 92618
PHONE:
HOURS OF OPERATION:
Mon-Friday: 09:00 AM – 5:00 PM
Sat-Sun: Closed