Neck Lift / Mini Neck Lift in Irvine, CA
If you feel that your neck makes you look older than you really are, you're definitely not alone. This sensitive area is often the first to display signs of aging due to sun damage, weight loss, genetics, and the environment. However, a youthful and refreshed appearance is possible with the help of Dr. Homer Hojjat, MD, who specializes in reconstructive and cosmetic surgery for the face and neck at SoCal Aesthetic Surgery in Irvine, CA. Dr. Hojjat suggests the neck lift or mini neck lift for clients who want to revitalize their neck and restore a more youthful appearance. The neck lift (platysmaplasty) is an excellent treatment for the reduction of vertical lines, neckbands, wrinkles, sagging skin, and significant vertical cords on the neck.
Platysmaplasty
What is a Neck Lift?
Platysmaplasty or neck lift surgery is often performed alongside neck liposuction and a full lower facelift to correct signs of aging and to turn back the hands of time. For patients with less significant signs of aging, a mini neck lift can be performed.
A neck lift can also improve the appearance of a turkey wattle, which is a common term used to describe the appearance of the neck when the platysma muscle sags and the muscle bands hanging between the jawbone and the collarbone thicken and become cord-like. Men and women concerned about aging can achieve outstanding results with a platysmaplasty, including increased self-esteem and confidence.
A more youthful look
Benefits of a Neck Lift/Mini Neck Lift
The platysmaplasty procedure is safe and efficient. It can provide a number of different benefits and typically yields results such as:
A more contoured and sleeker neck
A more youthful neckline
Improved, energized appearance that helps patients look younger
The results are subtle and natural. The incisions are hidden and patients look refreshed and more youthful after surgery. Other treatments can be combined with the neck lift to achieve additional goals, such as an eyebrow lift, eyelid surgery, or facelift. Dr. Homer Hojjat creates a customized surgical plan for each patient that meets their unique desires and needs.
The Ideal Neck Lift Candidate
The ideal neck lift patient will have realistic expectations and must be in good physical health. Men and women who want to improve the appearance and contours of their necks can benefit from a neck lift procedure. People who are near their desired weight and practice healthy lifestyle choices, as well as those who have experienced dramatic weight loss may anticipate outstanding results with Dr. Hojjat.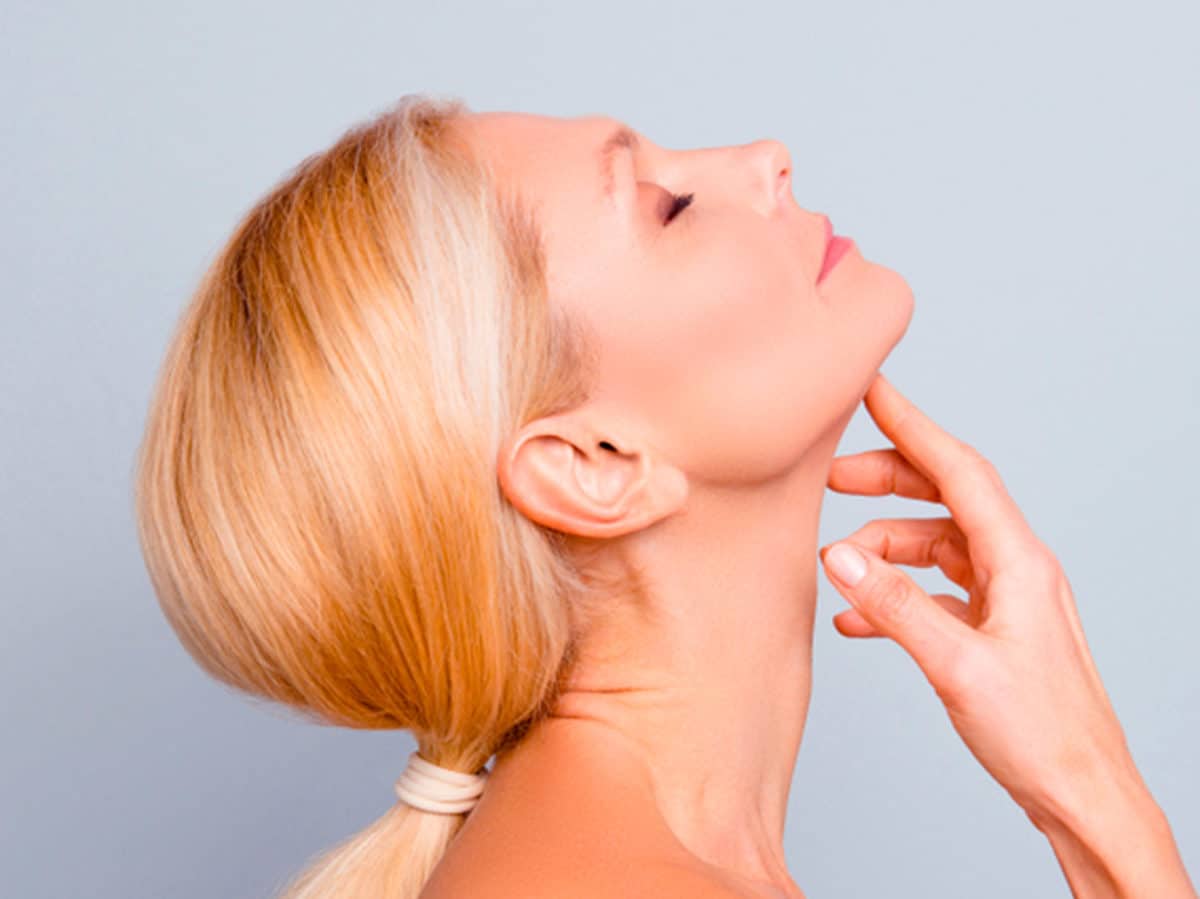 Schedule a consultation
Neck Lift Consultation
During a neck lift consultation, Dr. Hojjat explains the neck lift procedure and the recovery process. The consultation is the best time for a patient to discuss their cosmetic goals.
There are different options available to improve the neck's appearance, and Dr. Hojjat reviews the patient's health history and examines their neck before making a professional, personalized recommendation based on the neck's shape, contours, and proportions.
Tightening and improving the appearance of the neck can also be achieved with options such as neck liposuction, submentoplasty, cervical lipectomy, and neck lift surgery. Dr. Hojjat provides each patient with treatment options that will produce the rejuvenating, youthful look they want to achieve.
The Procedure
The Neck Lift Procedure
Dr. Hojjat uses IV sedation and general anesthesia to keep patients comfortable during surgery. The surgery time varies but is typically no longer than two to three hours.
During the neck lift, Dr. Hojjat tightens the platysma muscle, which improves the appearance of the neck and throat. Liposuction is used to remove pockets of excess fat (the double chin) and to sculpt and define the contours of the neck.
Sagging loose skin is removed from the neck area, and the remaining skin is re-draped to produce a smooth, taut look. Dr. Hojjat creates the incisions inconspicuously behind the ears and beneath the chin where they are made in the natural crease lines and are nearly invisible.
Dr. Hojjat will remove the bandages the next day. He will remove the stitches approximately one week after the plastic surgery.
The surgeon provides each patient with post-procedure information and pain medicine for relieving any discomfort. All strenuous activity must be avoided for up to three weeks, and the incisions will heal and fade significantly within a few weeks.
Recommendations
Neck Lift Surgical Recovery
Patients typically experience some bruising, swelling, and numbness after the neck lift, along with a pulling sensation from the liposuction. All of this is normal, and Dr. Hojjat provides complete instructions along with appropriate pain medications to ensure that each patient experiences a comfortable and speedy recovery. The bruising along with swelling and other symptoms will improve daily, and Dr. Hojjat's neck lift patients can expect to recover completely in a few short weeks.
Most neck lift patients return to work in one to two weeks following the surgery when the swelling and bruising have reduced and they feel presentable. Strenuous exercise or heavy lifting will need to be avoided for up to three weeks after the surgery. Dr. Hojjat provides each patient with thorough aftercare instructions, and patients can call the office at any point with concerns or questions.
FAQ
Neck Lift FAQs
How long does the neck lift surgery take?
The length of the surgery depends on the individual's age, on the condition of the neck muscles, and on how much liposuction is needed. The surgery should not take longer than two to three hours.
Where are the incisions?
Dr. Hojjat will create the incisions inconspicuously and will hide them behind your ears and beneath your chin. The incisions are made in natural crease lines, which means they are barely visible. These incisions will heal very well and will fade significantly within a few weeks.
Is the neck lift procedure painful?
Neck lift is not a painful procedure. Dr. Hojjat will provide you with instructions and appropriate pain medications to ensure that you experience a comfortable recovery. You will be given complete aftercare instructions at your consultation. Following these instructions will decrease discomfort and will enhance the healing process.
What should I expect during the neck lift recovery?
You will experience bruising, swelling, some numbness, and a pulling sensation from the liposuction. All of this is normal and can be managed with pain medication. They will significantly resolve by 2 weeks after your procedure.
Does neck lift surgery carry risks?
All surgical procedures, including neck lifts, have risks. However, choosing an experienced plastic surgeon like Dr. Hojjat and following all pre-and post-surgical instructions will dramatically reduce these possible surgical complications.

Risks can include infection, excessive bleeding, delayed healing, numbness, and unexpected scarring.
Is the cost of a neck lift covered by medical insurance?
You should consult with your medical insurance, but neck lifts are considered to be optional surgeries and are not covered by insurance.
How long do the results last?
Results generally last from 10-15 years. Most important action to take to keep your results lasting longer is to maintain your weight and appropriate skin care regiment.
Irvine, CA
Schedule Your Platysmaplasty Consultation
Skilled plastic surgeon Dr. Homer Hojjat, MD offers the mini neck lift, traditional neck lift, and other outstanding cosmetic surgical and nonsurgical options at SoCal Aesthetic Surgery, which is located in Irvine, CA. Call us at 949-996-3274 to schedule a consultation with Dr. Hojjat.
ADDRESS:
113 waterworks way, Suite #100
Irvine, CA 92618
PHONE:
HOURS OF OPERATION:
Mon-Friday: 09:00 AM – 5:00 PM
Sat-Sun: Closed